NEW CD RELEASE OF NEVER BEFORE PUBLISHED RECORDINGS OF RONNIE DAWSON!
(includes 50 page booklet of photos & liner notes!)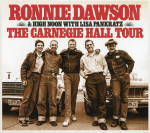 Where to buy:
Produced by Greg Wolske, Lasso Productions
Recorded live at the James Dean Rockabilly Weekender, Marion, Indiana on June 25, 1994, and recorded live in the Lasso Productions Studio, Columbus, Ohio on May 5, 1994. Ronnie Dawson with Rockabilly Trio, High Noon, and drummer, Lisa Pankratz, were recorded live and in the studio while on a road tour that followed their debut concert at Carnegie Hall in New York City on April 29, 1994. These recordings are previously unpublished and are being released for the first time anywhere.
This is Ronnie Dawson at his absolute rockin' best! His stellar backing band includes, High Noon's Shaun Young, Sean Mencher and Kevin Smith along with Lisa Pankratz. These are the same great Texas musicians who appeared with Ronnie on national television for a live performance on 'The Conan O'Brien Show' in 1995. Includes new versions of classic Ronnie Dawson performed songs such as 'Yum Yum Yum', 'Monkey Beat City', 'Rockin' In The Grave Yard' and 'Rockin' Bones'. The live recording contains a sensational impromptu acoustic jam by Ronnie and the band as they keep the party going when the electricity goes out! Ronnie Dawson was an incomparable performer who mesmerized crowds with his unique brand of explosive Texabilly, Blues and Rock 'n' Roll music. Ronnie began his career as a teen sensation in late 1950s Dallas, Texas. Known as the 'Blonde Bomber', he had some success with early Rockabilly favorites like 'Action Packed' and 'Rockin' Bones'. Thanks to those early recordings, a renewed interest in Ronnie developed in England and Europe in the late 1980s. Thus began the most prolific years of his life. Ronnie Dawson was fresh, relevant and exciting, not an 'oldies' performer resting on his laurels. All throughout the 1990s and up to his untimely demise at age 64 in 2003, Ronnie continued to amaze with exciting new material and unforgettable performances. The recordings released here for the first time, capture what could surely be called the epitome of Ronnie Dawson during the most thriving and creative years of his life.